On the Exultation of the Holy Cross this year, our bishop lay prostrate on the floor of his cathedral.  In his homily that followed, Archbishop Charles Thompson explained that lying prostrate was his own:
Photo by Sean Gallagher, The Criterion

"act of penance and a pledge of doing everything in my power to do what is right, just and holy in eradicating the great scourge of sexual abuse and sexual harassment of all persons, most especially children and young people, making every effort to prevent it from happening again" (The Criterion).
Archbishop Thompson, as have so many bishops, have sought to say something—do something—which might help the faithful grapple with the growing lists of their pastors, chaplains, deacons, and teachers who have been charged with sexual assault.  How many names have you known?  How have you responded to the crisis—or crises—of sexual abuse unfolding and unravelling like some poisonous, stinging creature across the cold stone floors of our Roman Catholic churches?
Some of us in the Roman Catholic world may try to ignore this most recent scandal—which eerily sounds like one which unfolded 17 years ago in Boston, Massachusetts.  But, teaching Catholic theology in a Catholic school hasn't afforded me that luxury.  My students—most of whom are active in ministry themselves—need to talk about it.
In my Catholic history course, we took a sharp detour from discussing 17th-century Jesuit missionaries running deep into woodlands of the American continent: we turned into an open forum in which the students (mostly college seminarians) grappled with what it fel
t like to have their process of vocational discernment suddenly start to feel as if they were running deep into a burning building.  In another course, a student presentation likened the terror of abused children and minors of the present century to the suffering of the martyrs in the 200's; our class observed that, while the 3rd-century martyrs were the Church being persecuted by the state, today, it is the Church who is the perpetrator of persecution.
Such conversations have been necessary, whether they take place in the classroom, or in a ritualized setting like our bishop's holy hour.  Yet, these instances don't stop at simply naming pain, or promoting healing.  Some of these conversations promote, I fear, deeper division: I have heard conversations and at least one homily which have blamed the sex abuse crisis on the existence of homosexuality.  In other cases, I've had people tell me, "Great, it's another terrible way the Catholic Church is alienating people."  Why would anyone want to stay in the Church if abuse, lies, and scandal provide the basis for the Church's reality?
For me, though, I don't intend to go anywhere—despite the deep horror of the sex abuse crisis.  And, while I've had difficulty articulating my feelings, I found a metaphor I could carry when I had a conversation with one of our Franciscan sisters here at our school.  A few mornings ago, she and I paused in the hallway, exclaiming our sadness over the names of priests in our own diocese who had been implicated in sexual abuse.  "I'm afraid," she said, "that so many people will find this as an excuse to leave the Church.  And, if this is all the Church is—people that fail—I'd be right there, leaving with them.  I'd say, 'Last one out, turn out the lights!'"
She continued, "But, the Ch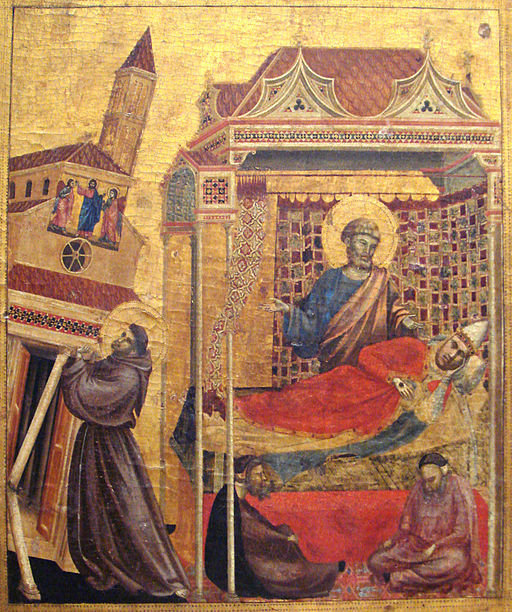 urch is so much more than that.  It's not just an institution—it's Christ's Church.  And, that's what Francis calls us to do.  Things were bad in the time of Francis and Clare, too, but God called them to Rebuild My Church.  We have to Rebuild the Church from the inside.  That's what we're called to do now."
I think she's quite right—reminding us of Francis and Clare.  We are called to be here.  We are called to rebuild the Church—from the floor, up.