America magazine reports that approximately 550 people gathered on Sunday to celebrate Mass in Lafayette Square, near the White House, in order to show solidarity with immigrants and refugees affected by President Trump's recent Executive Order.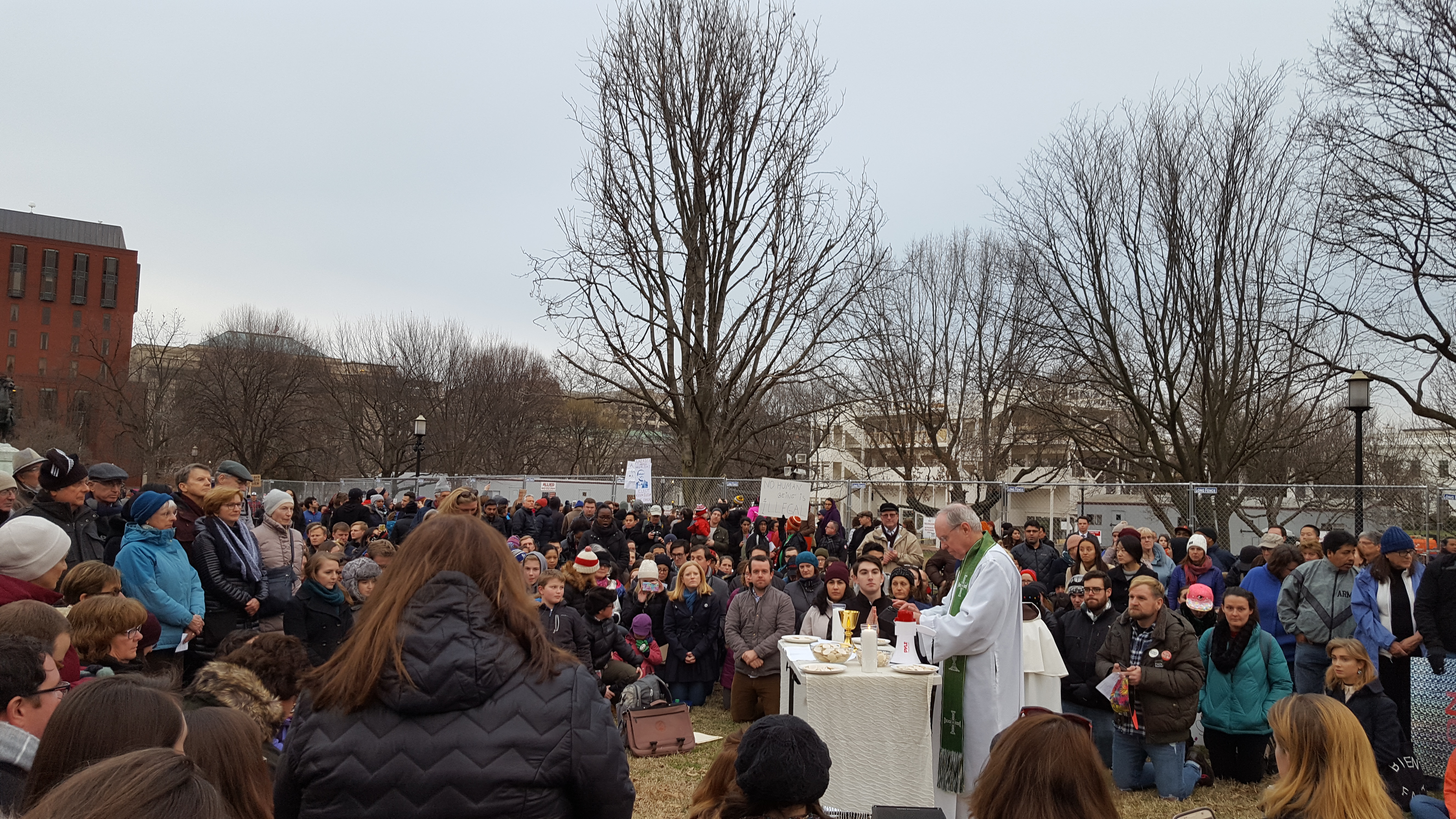 Is this a case of inappropriately "politicizing" the Mass by turning it into an instrument of "protest"?
Certainly, there have been throughout history political uses of the Eucharist that have distorted the sacred meaning of the sacrament. Indeed, the Church's liturgy has often been used to sacralize oppressive power by providing the setting for the coronation of tyrants or offering a bully pulpit for frankly partisan agendas. And without having been at the Mass in Lafayette Park it is difficult for me to say whether it crossed some sort of line.
But it is also good to remember that the Mass is in one sense an inherently "political" act, because it is the food for the journey of the City of God while on pilgrimage; it is the act by which God constitutes the Church as a "people" who seek to be disciples of Jesus by seeking him in the hungry, the naked, the stranger. Whether celebrated in a public square or in a private chapel, the Eucharist is an act of protest against all the forces of dehumanization that plague our world (a dehumanization that is sponsored by partisans across the political spectrum); it is the anamnesis of the state-sanctioned death of one who was perceived as a threat by representatives of the most powerful empire in the world; it is the "sacrifice of our reconciliation" that has the power to "advance the peace and salvation of all the world."
The Eucharist is political dynamite. It is the supreme act of protest, by which we say "no" to the powers of death. It can be misused and manipulated for political purposes, but abusus non tollit usum. If the public celebration of the mysteries of the Son of God, who
chose the foolish of the world to shame the wise, and… chose the weak of the world to shame the strong, and… chose the lowly and despised of the world, those who count for nothing, to reduce to nothing those who are something… (1 Cor. 1: 27-28)
seems in light of current events to carry a message of political protest, well, maybe that is God's doing and not our manipulation.