In 1991, my grade school class was herded into our parish church to hear a
lecture about the Gulf War.  Over the somewhat static-laden sound system, one of our teachers (likely holding a microphone over a cassette player) blasted Lee Greenwood's "God Bless the U.S.A."  Sitting with my grade-school class, I remember feeling, for the first time, patriotic.  We all joined in the chorus, shouting:  "And I'm PROUD TO BE AN AMERICAN, where at least I know I'm free!"   We sat in our pews, swinging our sneakers to the beat, enjoying freedom, power, and the anticipation of lunchtime recess, all the while confident that our parents would be coming to pick us up in their station wagons at 2:50 that afternoon.
Today, I can't sing this song.  In the midst of the crisis of separated families at the southern border of this country, I have no pride in being an American.  I find it even more repulsive to imagine singing these words in a house of worship.  I am ashamed to be an American in a land where cries of fright, confusion, and hunger pierce the air; a land in which nursing mothers are torn from their infants, and fathers are hauled away in front of their children's eyes.
This weekend, at Mass, we'll be singing a song of freedom as we celebrate the nativity of the forerunner to the Risen One, John the Baptist.  This child was called a prophet of the Most High, and he went before the Lord to prepare his Way (Gospel Acclamation, Luke 1:76).  This child grew to be one who lived on the margins, and the Light of the World to whom he witnessed was no stranger to the plight of refugees and persecuted peoples (Matthew 2).
It is my prayer that, in the churches of this country, the Gospel will call us to become a light for this nation, singing a new song, one which lifts up the lowly, fills the hungry with good things, and proclaims our God who scatters the proud in their conceit (Luke 1: 46-55).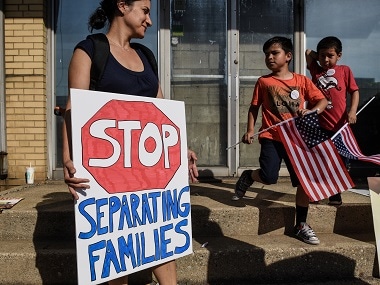 For the Catholic Church's position on Immigration and Enforcement in the United States, please see the USCCB's website.