On Monday, I taught my first class as a full-time professor. There are a number of ways in which my situation is out of the ordinary. For starters, I began teaching one class a semester at Nashotah House Theological Seminary (now beginning its 175th year) three years ago, during my second year as a doctoral student at Marquette University. The last person to expect that to happen was me, and yet a place I had dreamed of teaching came as a gift and a wonder. Further, I am also without my PhD in hand (or stuffed in a drawer, as the case may be), with a bit more to write before a defense later this academic year (all ye angels and saints, ora pro nobis). I actually have an oratory in the house where my family and I live, a rambling old place built for a dean more than one hundred years ago. The chapel is dedicated to Sts. Peter & Paul and on the west wall there hangs an amazing image of Our Lady, flanked by St. Benedict and St. George each killing the dragon.
And then there's the fact that each morning, I hop on my bike and coast down the hill to the garth and to the Chapel of St. Mary the Virgin for the Office and Mass, after which I stroll over to breakfast with the students and then return to my office on the third floor of a venerable stone structure, out of which I can see the sundial erected by a previous dean and whose coat of arms is chiseled on its base. The sundial has not one but two mottos: "Redeeme Ye Tyme" and "The day cometh and also the night;" (for one of the most amazing sundials upon which you'll ever set eyes, see this).
But what is probably one of the most unique aspects of my position at the House compared with most people teaching theology is that I am required to be in chapel for about an hour and a half a day. The faculty no less than the students. And those of my professorial colleagues who are priests like me accept the duty of being on the rotation for 365 days-a-year daily Mass duties.
As a non-Catholic, I recognize that all Catholic priests, deacons aspiring to the priesthood, and all those in religious life whose rule requires it, are required to say the office. Many seminaries make it, along with daily Mass, a requirement of their seminarians. Priests in the Church of England are still required by Canon law to pray the Daily Offices of Morning and Evening Prayer, which corresponds roughly to Lauds and Vespers in the Liturgy of the Hours. But American priests of the Episcopal Church have never had such a requirement (though the bishop who ordained me made it clear that the weight of Catholic tradition on this point meant that his priests were under the obligation nevertheless).
Students at the House place themselves under a common rule during term that is weighty indeed: after the ringing of the Angelus, we begin 8 am spoken Morning Prayer followed by Mass with music and then later, 4:30 Evensong sung to plainsong (Benediction follows Evensong on Wednesday and on Thursday we change it up: Choral Matins at 8 am, 4:30 spoken Evening Prayer and 5:00pm Solemn High Mass; Take a listen here).
When I was a parish priest back in Dallas, we also had a required round of daily worship that included the morning and evening Offices as well as the Eucharist. The necessity of our attendance was, however, a bit more flexible. Further, our weekday liturgies were all spoken and without any music. It was not until we moved to Milwaukee and I extracted myself (though, if I'm honest, it felt more like a violent wrenching) from that rhythm that I realized just how fully that pattern had anchored my spiritual life. It was a change from which my spiritual life never seemed to fully recover.
But I need to be honest. Those rites back in Dallas had my fingerprints on all over them. It was my job, to be sure: I was responsible for all of the worship life at the parish except the contemporary liturgies on Sundays. As such, the manner of conducting both rites corresponded to my (idiosyncratic, I am sure) views on best practices. Recall that since one of the principles of the reform of the liturgy beginning with Thomas Cranmer in the sixteenth century was to radically prune the rubrics has continued in subsequent Anglican Prayer Books, there is a good deal more room for personal proclivities to pop up and preen about.
At my new job and in my new choir stall, I am not in charge of the liturgies (though, as the liturgy professor, my views are warmly invited by my colleague who does run the chapel). But more than that, there is a sociological aspect to the official stall where I keep the Office's hours. Our monastic-style seating means that I cannot help but look at my colleagues and students as we pray. The truth is that my concupiscencal eyes cannot but flicker to every odd sign of the cross, every over-rigid bow, the voice that refuses to blend in as we chant the Psalms. It is this part of our life, of course, that leans most closely to the experience of Benedictines and other religious who say the Office corporately. The difference, of course, are much greater than the similarities: none of us has taken vows of poverty, chastity, obedience, or stability; the community changes each year; I'll negotiate with my wife around the single sink in our bathroom in the morning as we get ready and help my daughter prepare for her theater audition after dinner. Nonetheless, the frequency with which we lead and pray these liturgies together, marked by both by fixity and variability, creates a sort of social experiment worthy of a trained scientist's penetrating eye. Unlike my parish church community on Sundays, my seminary community not only prays together for an hour a half a day, but eats two meals together and shares these 200 odd acres for nearly every hour of the week.
As the newest faculty member to take up a choir office stall, I am experiencing what I imagine many of the new students are: the realization that this chapel requirement really messes with your day. To get through a doctoral program with a wife and children and the intention that we would all still know each other well by the end, I had to become more disciplined than I had ever been in my life. That's still the plan. But with the other duties to family, job, dissertation, and sanity, the little question scratches at the pragmatist right under the surface: are these Offices and the Mass really all they're cracked up to be? Does it actually matter?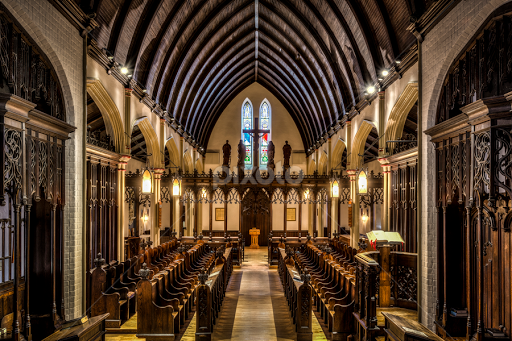 I still struggle to identify which aspects of this worship schedule is most ascetical for me: the way it pulls me from my real office or the way my sinfulness is exposed as the Office prays me. The character of the Office liturgy itself, including the Psalter and the uniquely-lengthy lessons in Anglican Offices, nudges, nestles, cajoles, reproves, frightens, and calms me. It's amazing how many opportunities there are for pride in my office stall: my skill in chanting; reading the tenor line well during the hymn; knowing the correct place to sign myself (not too small, not to ostentatiously). I could go on, but it's a bit too humiliating. 
My dissertation is a mistress who ever beckons, a siren who ever seduces me from my airy, third-floor tower office. But only the Lover sings in such a way as to call forth in me the new man, still dripping from my initiation and stumbling around the first chamber of my interior castle: he bids me come to my Office stall. There, I will say the words that God says he wants to hear from us. And just maybe I'll go further up and further in.