I have had the pleasure this term of teaching a special topics course for Honors students, entitled "Does God Exist?."
This week we are looking at St. Anselm's famous text, in which Kant found what he called the "ontological argument for the existence of God," a phrase he coined before dismissing it with a veritable hand wave. Fitting with Kant's view of reality, he did not discuss at all the form of life out of which the Proslogion proceeded, approaching it rather as a standalone piece of dialectic rationality.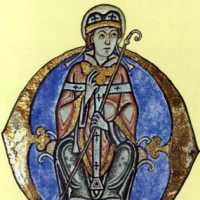 In order to help the students "place" Anselm, we gathered on a snowy evening last week to watch Into Great Silence. With the caveats that Anselm was not a Carthusian, but a Benedictine, and that his life would not have looked exactly like those living at the Grande Chartreuse, we tried to grasp the form of life that gave rise to Anselm's Proslogion.
After 160 minutes of mostly dialogue-free immersion in the rhythms of monastic life, our eyes squinty after turning the lights back on, we reflected for a few minutes on our impressions of the film. Many students were drawn in. What would lead people to live this way? How did they see themselves following Jesus? Why is that poor old monk shoveling snow all by himself?
Some of the most curious and interested comments though pertained to the rhythm brought about by the Hours. One student mentioned that moving from silence into the sounds of communal prayer was a welcome shift. One began to look forward to those moments. Another, having studied the Liturgy of the Hours in his music major, wondered just how many hours the Carthusians observe. Others were attracted to the way in which people dedicate their lives in such a way and submit to the form and structure of the community and its symbols, even when the immediate intelligibility of those symbols isn't readily apparent. During a hike—one of the few times the Carthusians converse—the practice of ritual hand washing before their weekly communal Sunday dinner came up. One asked whether it sh
ould be eliminated because we don't know why we do it. Another monk responded that if we don't get a symbol, it is us that needs questioning, not the symbol. Students were beginning to see some of logic of embodied liturgical life.
For the course, the payoff came when we read the Proslogion. Not having much, if any, background in philosophy and theology, students struggled with the text. Yet, the students who watched the film pointed out that his reflection on "the fool" comes from the Psalms and that further quotations from the Psalms pepper Anselm's opening "invitation." They made the connection that Anselm's was a life formed by the Psalms. One student even remarked that the series of questions about God in Chapter 1—questions derived from Scripture—were her questions too. She was comforted to see them in this text from 1000 years ago. They wrestled with Anselm's argument, let it bend their minds a bit, but began to see it as a reflection on a liturgical life. They were primed for where philosopher of religion John Clayton was to take them next: "if theistic arguments no longer make sense to many of us today, this may be because we no longer find it possible to participate fully in the forms of life in which they were once so firmly embedded."
In all this I find an invitation to further reflection on meeting young people in the theology classroom. At a small Catholic liberal arts college, I don't have the opportunity to offer courses in my speciality, sacramental theology. When presented with a "Special Topics" prep, I surveyed Honors students, and they overwhelmingly wanted "Does God Exist?" over what I thought was a similarly sexy title for a historical/sacramental theology course: "Bodies in the Christian Tradition." While my students' reflexes might lead them away from a course in Catholic liturgy, their sensibilities run deeper. They are interested to discover the embodied practices of the tradition that they don't know about. They are drawn into liturgical rhythms and symbols. Yet, it is so often the nagging epistemological question that gets in their way, that haunts them. Showing them that the epistemological question is not taboo and welcoming them into a millennia-long conversation is a start. Learning that the linkage between mind and body is a key insight on which the tradition operates is an opening to liturgical theology.