My husband and I have been attempting an impossibility: taking our infant daughter to Mass every week.  This has involved sitting on cramped folding chairs, standing in drafty narthexes, and running (carefully!) with a 14-p
ound infant in a 20-pound carrier in order to make it in time (we're shooting for the Gloria, not just the Gospel, if you're wondering).
For the most part, we have success, even when Mommy has had to play organ at Mass.  Our little girl particularly enjoys looking at the lights in our parish narthex, and usually falls asleep by the Creed.
We had one disaster, however, when we attempted a daily Mass at a parish unknown to us a few weeks ago.  We were looking for a noon Mass and, while my New Englander husband insisted that such things were extremely common in Massachusetts, noon Mass is apparently a scarce and rare beast in central Indiana.
We found one, however, and proudly packed our baby in her car seat, stuffed her diaper bag with the necessities, bundled up (as the weather was still in the single digits and windy), and drove to our target destination—a long-established downtown parish.  We checked our time—we were good, even though we had to fumble around for cash to pay the parking meter on the city street.
Immensely pleased with our new-parent planning skills, we marched up the stairs to a lovely set of doors, threw them open, and stepped in out of the cold…to a surprisingly quiet narthex.  Good, we thought, Mass ha
sn't started yet.  We peered through the glass windows into the sanctuary.  It wasn't just quiet.  It was too quiet.  No Mass was taking—or about to take—place inside this sanctuary.
"What did we do wrong?"  we immediately wondered.  This not being our first rodeo, we hustled ourselves out the door again, looking for a parish center, a chapel, a crypt, anything.  We rang doorbells.  We peered through windows.  No Mass.  Sadly, we went back into the sanctuary, my (New Englander) husband grumbling that "this would never happen on the East coast!"
Suddenly, we heard, off in the distance, echoing voices.  "Stop!"  I cried, "I hear people!"  We ran towards the altar, where we heard the noises (mind you, we're still carting the infant and sweating, by now, in our heavy winter coats).  Finally, we saw the Mass-goers!  In a small chapel, behind the sanctuary, behind closed doors, behind barred windows, sat a sparse crowd of Mass-goers, listening to the Gospel reading.  Relieved, we tried the door.  It was locked.  We tried waving.  Nada.  We tried plaintively staring and attempting eye contact with the people inside.  Nothing.
After a few minutes of this…and the
Mass had trudged on, through the homily and beyond…we realized that it was over.  We had no hope of going to noon Mass that day.  We picked up our daughter (who thankfully slept through all of this) and walked through the dark sanctuary, out the doors, and back into the cold city street.
I tell this story, because it was a hard experience for us personally, but it raised a lot of questions for me:
Was the Parish in the wrong?
Why did the parish website not instruct where the Mass was? (We did check.)
Why was the Mass located behind locked doors? (And we cased the joint as we left—we saw no other entrances, and the parking lot closest to where Mass was taking place was roped off.)
Why did no Mass-goer take pity on us and open the door when we obviously were trying to get in?
On the other side, however, were my husband and I in the wrong?
Was it right for us to go "church-hopping" in seeking a time which was convenient, not a community?
If we were part of that parish community, we would have known where to go—therefore were we simply trespassing?
Should we not trust masstimes.org?
It was deeply troubling, but perhaps understandable, that no one saw us (or admitted to seeing us) and let us in.  And yet, I think the deeper issue at play is that our city parishes choose to—and need to—keep their doors locked and the Eucharist hidden.
Now, I know from my own parish experience, that city and even suburban parishes are routinely vandalized, precious artifacts stolen or damaged, and confront significant safety issues if they leave their doors open. But how can you welcome the stranger, give comfort to the brokenhearted, and food to the hungry, if simply finding daily Mass is like an adventure out of the pages of Harry Potter?
Is it possible to have a Church with open doors, or do we need to keep our city churches barred?  Is an "o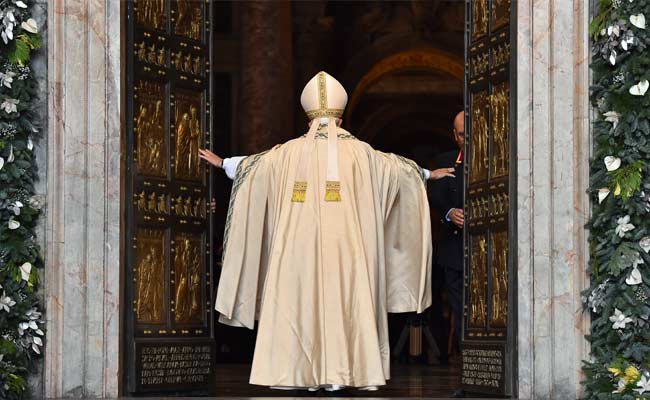 pen door" simply a theological key, or an eschatological image, with no ground in reality in our modern world?
We'll continue to ponder these questions with our daughter, as we begin to teach her the delicate balance between offering a generous heart and open arms to the world—and maintaining safe distances from strangers, and keeping the self out of danger.  And, in case you're curious, the next time we attempted daily Mass at an unfamiliar parish, we called the parish office.  Twice.